For Car Battery Replacement Aspley central please come in and see us at our workshop here at:
11 Albany Creek Rd
Aspley QLD 4034
Brisbane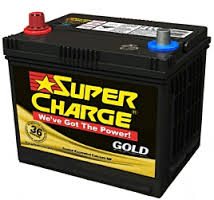 We recommend and stock Supercharge batteries for their exceptional quality at affordable prices.
SuperCharge's Gold battery product range is the most long-lasting and durable on the market. Whether you are looking for a standard auto battery or a specialised deep cycle battery, you can't go wrong with our warranty-backed products.
Thanks to EXG technology, our truck and car batteries can withstand the harshest work, weather and road conditions. Units are available to fit any model, so you are sure to find the most performance-enhancing solution for your vehicle.
The benefits of SuperCharge products and services include:
A generous warranty
Full compatibility with leading automotive and boat models
Superior grid strength against overcharging and corrosion
The technology is ISO 9002 and TUV certified
Our Car Battery Products
We offer the widest range of low-maintenance car batteries in Australia, as well as an extensive selection of marine battery products and deep cycle battery selections to fit your needs.
Gold – These are maintenance-free, fully-sealed, top-of-the-line products with superior starting power. Our gold units come with a 36-month warranty and are ideal for heavy duty vehicle use. Many consumers prefer Gold units as their four wheel drive auto battery of choice.
Silver – These units are also fully-sealed and maintenance free. Ideal for normal use, they have an amazing reserve capacity. All silver batteries come with a 24-month warranty.
Accessible – The accessible model is very low-maintenance as compared to other options on the market. These offer a high starting power and a 30 month warranty.