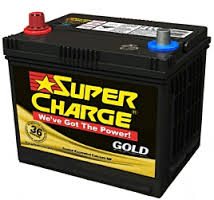 Free battery checks available on every visit – essential before embarking on a weekend away, or any holiday venture on-road – or off-road.
We replace batteries for all makes and models of vehicles.
Also available: Dual battery systems complete with sensor auto switching, conserve you vehicle battery power while camping or any other activity that uses power when your vehicle is not running.
SuperCharge has been distributing boat, truck, and car batteries since 1984. All of our products are made using market-leading Expanded Grid (EXG) technology, which helps SuperCharge one of the leading distributor of maintenance-free car batteries throughout the Oceania region.

Another product we recommend and provide is the All ACDelco Low Maintenance Accessible (LMA) Batteries which are highly reliable and meet the needs of Australia's tough conditions.
Available to suit Most Makes Most Models.
ACDelco provides a wide range of quality products for the automotive replacement parts industry. ACDelco's global presence in the industry ensures the use of premium manufacturers to offer quality products to suit Most Makes Most Models. We have built up a worldwide reputation as a premium source for experience, dependability, technology and performance.
We specialise in 4X4 accesories, dual fit out batteries, caravan LED lighting and more.